The privacy app
free and open source
Blokada is the popular ad blocker and privacy app for Android and iOS. It's being supported and actively developed by the amazing open source community.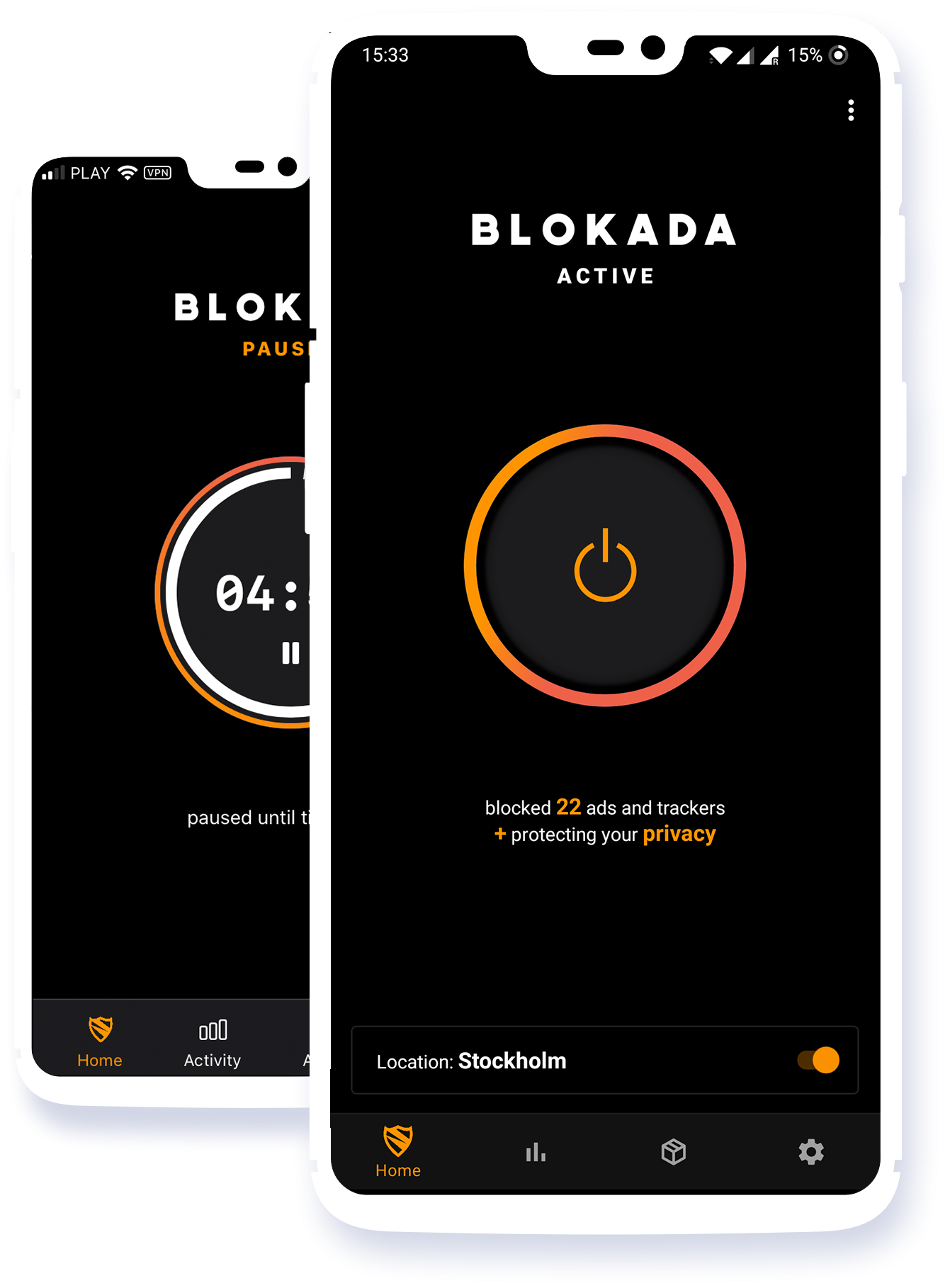 Blokada 5, the ad blocker
If you want to efficiently block ads, trackers, malware, save on your data plan, speed up your device and protect your privacy with just one application, then Blokada is for you. It is free, secure and open source.
Blocks ads & trackers

Works for all apps and all browsers

Requires no root or jailbreak

Built in VPN for better protection
Download Blokada
Blokada is available for several platforms, choose yours.
Blokada 5 for Android
This is our new, recommended version for smartphones and tablets with Android 7 or newer. It is simpler and faster compared to Blokada 4.
---
Blokada 5 Slim for Android
Blokada Slim is a lightweight version of the app, and it only contains features allowed by the Google Play policy.
---
Blokada 4 for Android
We still maintain the older version of Blokada. It has more features, works on older devices, and TVs.
The Community
Blokada is not only the privacy app. It is also the community of people who care about their digital privacy and wellbeing. You will find us on our forum, where you can ask any questions you may have. We are also present on other social media and chats.
Join us and say hi!
We base all of our work on the feedback of our users. Tell us what you think, what should we improve, or just hang out.
Here are some of the opinions from our users.
Learn more
Best app till now. Installed on all my phones.
And thanks for making this free app in the first place, it's a lifesaver.
IMO v5 is better organized compared to v4. all main actions are visible in bottom toolbar view.
Support the project
If you like what we do, consider supporting us, so that we can continue developing new features and improvements. This way, Blokada can stay open source and free forever.
Blokada is dependent on you
Blokada is an open source project, which means you can be sure it's always going to be free, safe to use, and without any hidden agenda. We believe this is the only right way to develop a privacy app you can trust.
However, developing a quality app like Blokada requires a considerable amount of resources. This project exists thanks to the support of awesome people like you!
Are you a developer
and want to make Blokada better?
Blokada is an open source project dedicated to developing the best ad blocker and privacy app for Android and iOS. Check our Github, and let us know, if you need any assistance to make your first PR.
Go to repo